UNIT TWO :THE RENAISSANCE ERA (CA 1450- CA 1600)
• "rebirth "
• Golden age of capella
• Realism, portraiture and humanised subjects
• Was governed largely by Church practices.
• People began to think at life from a different more secular perspective.
• Renaissance Era is the Age of Humanism
• Constantinople was home for churches and monasteries and an important center of learning. But 1453 Constantinople (now Istanbul) fell under Turkish army so many went to Rome and brought Hebrew and old Greek languages.
• Music publishing in this era was invented by Johann Gutenberg in 15th century. Copying music by hand was replaced by mechanical reproduction so quicker and efficient.
• Musical style of humanism and secularism, composers have created music that also reflects the spirit of the Renaissance. Use of 3rd and 6th, expansion of contrapuntal textures and closer relationship between text and music and wider range of musical genres.
FRANCO –FLEMISH SCHOOL
• A group of composers who flourished in the 15th and 16th .
• "Franco – means France, "Flemish- means to Flanders, a region encompassing Belgium and Holland on the modern map of Europe
• Leading figures included Johannes Ockeghem, Josquin des Prez, Jacob Obretch.
• Known for vocal polyphony and highly developed contrapuntal style, particularly in the motet and mass
• Also referred to as "the Dutch School "and /or "the Netherlanders"
Johannes Ockeghem:
Josquin des Prez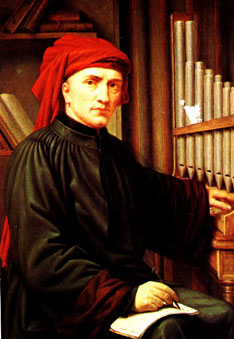 Jacob Obretch: